Tools and templates make your work easier and more consistent. Order the 15 KEY TOOLS Every IT Manager Needs to gain an edge in achieving IT success. Included in this package is a 1-hour training video that discusses each tool and shows you how to use them plus a download link to access the tools and templates.
Use each tool "as is" or customize them to meet your specific needs. These tools can save you hours of time and boost your productivity in many ways as they help you achieve more success.
Includes a 1-hour training video and download tools to use immediately!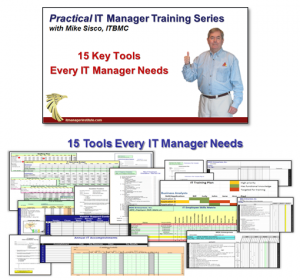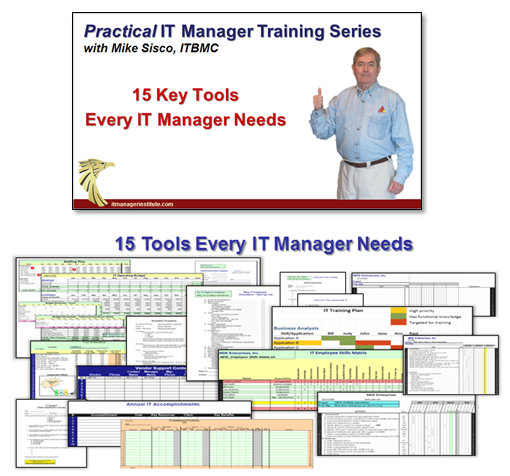 The training video sells for $99.00 on our web site; this offer saves $90.00.
Purchase NOW while the SPECIAL OFFER lasts for only $9.00.
The tools and templates in the 15 Key Tools Training Package include:
1.  IT Employee Skills Matrix – One of the first things to do is quantify the skills you have on your team. This tool makes it quick and easy to do.

2.  IT Training Plan – Eliminate silos of knowledge and skill gaps while you develop technology experts and depth in mission critical skill areas.
3.  New Employee Orientation Checklist – Get new employees started and up to speed quickly so they become productive members of the team with this checklist.

4.  Performance Plan Template – Includes a template for developing Employee Performance Plans plus three sample performance plans.

5.  Project Schedule Template – Develop project schedules quickly with this streamlined Project Schedule Template.

6.  IT Systems Conversion Project Schedule – Detailed project schedule for an actual system conversion gives you an example to use for your next system conversion.

7.  Office Move/Relocation Checklist – Use this Move Checklist for a quick start when you plan your next office move.
8.  IT Initiatives Portfolio – Track, monitor, and communicate your organization's performance and effectiveness in delivering projects with this handy tool.

9.  Vendor Support Contacts – Keeping key vendor contact information handy is smart and helps you escalate issues quickly when needed.

10.  Escalation Procedure Guide – Use this simple Escalation Guide and sample to develop escalation processes that minimize downtime and respond to problem situations quickly.

11.  Annual IT Accomplishments – A great tool to track and communicate IT successes throughout the year. If you don't communicate your organization's successes, no one will know.

12.  Client Rescue Guide – Pull that problem client out of the ditch with this straightforward process, and when you do it will create an ally.

13.  Cost of Downtime Template – Excellent tool to quantify the cost of downtime and paint a picture so senior management understands the financial risk of downtime situations. Great tool to help you justify and get IT projects approved.

14.  IT Budget Templates – Actually several templates in one which will help you budget faster and smarter.

15.  IT Support Survey – Understand five key things about how your client feels about their IT support. Critical information to monitor and improve IT support success.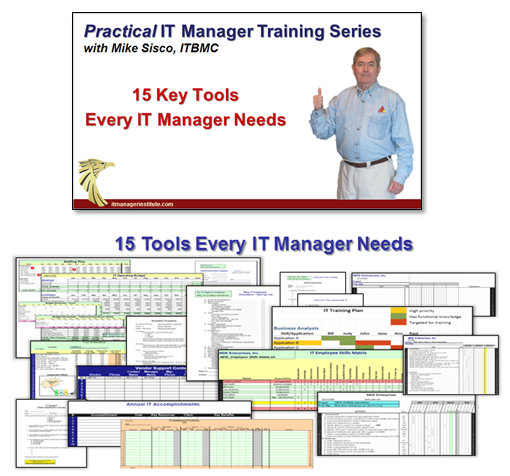 ———-
LIMITED TIME OFFER
Save
Save
Save
Save
Save
Save
Save
Save
Save
Save
Save
Save
Save
Save
Save